Thursday, February 08, 2007
THE KIKAY IS BACK!
Don't you guys miss my posts in kikay guru? Actually, I'm planning on deleting that account as I cannot handle that blog anymore. Not because I have ceased becoming a kikay but my time isn't that free now.
Now that I'm really accepting that I'm really kikay, I'll be incorporating my kikay stuff here in Exclamation Point. So please bear with me.
Papalicious no. 1: Mel Francis Salise
I first took notice of Mel when I watched him on tv battling for the national quiz bee in Manila. I recognized him because I see him in Kalipi. I got the chance to talk to him when he participated in the Basic Writing and Blogging Workshop. I saw Mel's writing and he has a potential for this. He still has so much room for improvement but I guess he can easily improve his skills in no time.
Ok, let's go to the fun part. Si Mel, tahimik lang, shy type pero crush ng bayan. Mel's Fans Club is founded by Micah Rivera and the current executive director is Joy Micaller. This February, I'm planning to register as a member. Wahahah. Kakahiya, patulan daw ba? Seriously though, nakakatuwa lang kasi he's medyo nerdy pero cute. Oy... May kinikilig dyan...
Papalicious no. 2: Jerry Codiñera
Okay, ladies, mag-level up tayo nang konti lang. As in level 6 feet plus plus. Nyahahayyy...
Sino sa inyong nakakaalala sa Purefoods basketball player na si Jerry Codiñera. Akalain mo ba naman, naispatan ko siya in the crowd during Mayor Atienza's State of the City Address? Nobody seemed to notice him at the back. Ang kikay, ayun... Hinatak si Kuya Mante to take a photo of Jerry. After our photo shoot, ayun... Ang madlang people, naga-hurry na gyud to take the autograph of Jerry.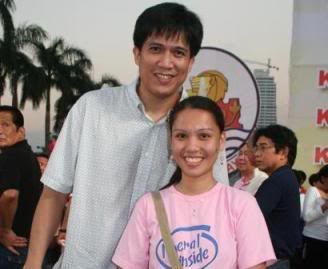 Oh di ba? May dimples pala siya.
Labels: basketball player, Jerry Codiñera, Kikay, Mel Francis Salise, Purefoods
Donnabee :: 3:25 PM :: 0 Comments:


---------------oOo---------------