Monday, October 09, 2006
MY LIBERAL BLOGGING GURU
If there is one person that should take the blame for the proliferation of liberal bloggers, it should be Dr. Ronald Meinardus.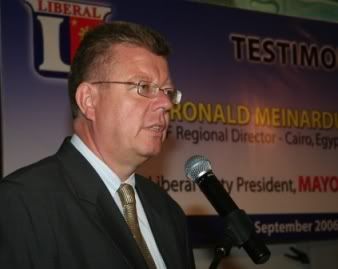 RM, as we fondly call him, has been the resident representative of the Friedrich Naumann Foundation Manila Office for four years. As a journalist, he stressed out the importance of using media and communication tools in the promotion of liberalism. No wonder FNF was able to produce numerous publications for the liberal movement in the Philippines. RM also introduced the use of electronic newsletters, websites, blogs and podcasts among the Filipino liberals.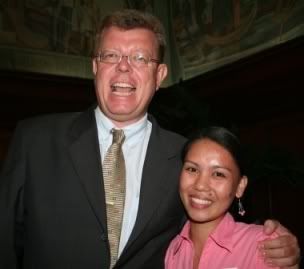 So much may be said about Dr. Meinardus but there is one quality about him that strikes me most: his objective and straightforward criticism. He can say something is wrong about your work in your face without being too personal. However, this quality has its equal share of disadvantages. Many Filipinos, as softhearted as we may be, may take criticisms offensively no matter how polite one says it. As RM himself wrote in his book Liberal Times in the Philippines, "Like no other Asians, I have found Filipino political friends and partners outgoing, communicative and inclusive. This openness and intimacy however, may also backfire. Sadly, I experienced that in a situation of crisis, political issues can take on a highly emotional and also negative personal flavour."
As we bid farewell to Dr. Meinardus last September 27 since he will be posted as the new Regional Director for Middle East, LP President Mayor Atienza together with LP leaders awarded RM with a plaque of appreciation.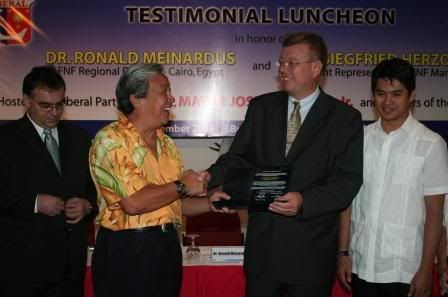 I also made a scrapbook for him in behalf of Kalipi, which contains messages from people who got close to RM, and his photos together with Kalipi and LP members.
When I was making the scrapbook, I was wondering what RM would feel upon receiving it because I knew that he was not a very emotional man. After the activity, we spotted RM pouring over the scrapbook with Mr. Siegfried Herzog beside him. Well, upon seeing the two, the effort of making the scrapbook was all worth it.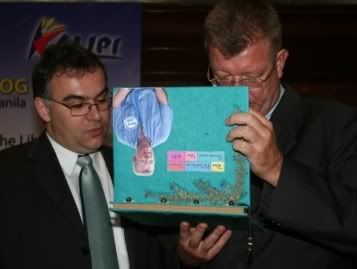 Along with our goodbyes to RM, is our hello to the new FNF Manila resident representative Mr. Siegfried "Siggy" Herzog. Siggy is not at all foreign to the Philippines as he himself has a Filipina wife. Mr. Herzog is an economist so he told us that he would focus on advancing liberal trade in the country.
Below, Mayor Atienza is giving the key to the City of Manila to Mr. and Mrs. Herzog.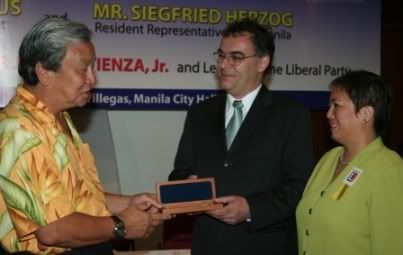 Donnabee :: 1:42 PM :: 2 Comments:


---------------oOo---------------