Monday, October 09, 2006
MILENYO
For four days, the whole Luzon area of the Philippines was shut down to all activities because of the short-lived but highly devastating "Milenyo."
Where was I that time? No, I'm not the one who sleeps through a disaster.
At first, I was happy that I'm gonna have more blog time. Persistent me didn't bother having five power fluctuations as long as I blog. Unfortunately, the last fluctuation ended up in a total blackout. At that moment, I got ready to leave the office. When I got out, I saw this tremendous wind blowing the streets of Manila.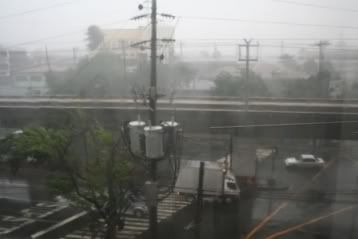 At that moment, I hurriedly got back to the office, which was actually in a total blackness, to get the camera. I took these photos. The wind was blowing so hard that the roofs of nearby building were flying off. Leaves were flying above the horizon. No one dared to walk outside because of the strong wind.
Donnabee :: 2:16 PM :: 0 Comments:


---------------oOo---------------