Thursday, September 21, 2006
NEITHER PRO-MARCOS NOR ANTI
I believe that for an end to be accomplished, various factors must conspire; whether grim or peaceful it may be.
What if Marcos had not instituted the martial law? Would heroes like Ninoy Aquino emerge? Would there still be a people power revolution? Would the dictatorship be changed to the democracy we now enjoy?
Which reminds me of Judas Escariot, the disciple who has been condemned for generations of Christians and now finds solace with the advent of the Gospel of Judas. If not for Judas, Jesus may not have accomplished his purpose in the world. Not all evil are disadvantageous.
Accordingly, if not for Marcos, the Filipinos may have contented themselves with the government that we previously had. Maybe we would still have the same constitution. As such, this black spot in our history is still part of the factors that led to our democratic republic.
On a lighter note, this morning, we joined the activities organized by the City of Manila: unveiling of the Victims of Martial Law Memorial Wall and renaming of the Hospital St. to Cecilia Muñoz-Palma St.
This is the marker of the memorial wall offered to victims of martial law.
On these walls are engraved names of the victims.
With these, the future generations of Filipinos will be reminded
of the martyrdom of the Filipinos from the past.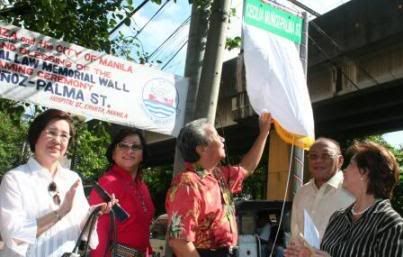 Here is the unveiling of the street named after the late Justice Cecilia Muñoz-Palma: the only justice who voted against the martial rule. As the keynote speaker in the person of Sen. Aquilino Pimentel said, "we used to joke around that she was the only justice then who had the balls to fight Marcos."
Of course, the Kabataang Liberal ng Pilipinas will always be in the frontlines of such activities.
Here's the whole bunch of us with the memorial wall at the back.
In this photo, we felt like we were sitting with the giants. Here are DG Eli Quinto, Senator Eva Kalaw, Sen. Eddie Ilarde and Sen. Aquilino Pimentel.
What's so special about this last photo? Actually, this photo was taken by no less than the Kalipi National President, Rep. Miles Roces. That's why we were all giggling to the bones.
Donnabee :: 6:52 PM :: 4 Comments:


---------------oOo---------------