Tuesday, August 08, 2006
OBSESSIVE COMPULSIVE
I was about to take a blog leave with my personal blogs this August when out of the blue, I felt the urgency to blog. Well, there's nothing really remarkable to blog about because I was a little busy these days. Well, should I define a little busy? Or, is this an epitomy of a super cluttered life? Associating this desk with an OC is quite unimaginable, huh?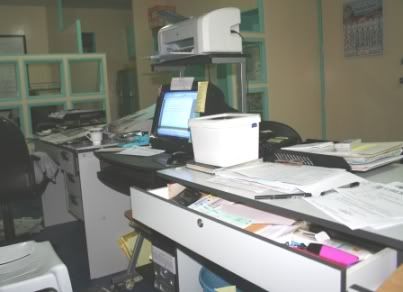 I'm a moderate OC, I admit. My superpowers include detecting typographical errors in 3 seconds from the moment you place the paper on my hand. Hehe! Maybe that's the skill I acquired from working in the investment arm of BPI wherein a little lapse could lead to a disaster.
Maybe it's good to have OCs in a financial job. This way, it would be easy for them to keep a balanced statement.
But sometimes, it has a downside. It can get quite expensive; one can get caught frequently betting on the lottery. I always dream about numbers and usually bet them in the lottery. On a second thought, maybe they're just manifestations of my work. Ikaw man, magcompute ng finances almost araw-araw, kung di ka ba naman managinip ng numbers!
Another downside is that you tend to notice other people's flaws often. I tell you, it gets to the nerves noticing their weaknesses and you cannot tell it to them since you want to keep nice to them. I remember my boyfriend complaining about it. Further, you tend to forget your own.
Okie, My Girl na! Babush! Gotta fly in front of the TV.
Donnabee :: 9:16 PM :: 3 Comments:


---------------oOo---------------