Thursday, July 27, 2006
I CAN'T GET ENOUGH OF SALONGA
I just got my own copy of the Liberal Chronicles from
Friedrich Naumann Foundation
Manila Office yesterday; for which I would like to take this opportunity to thank their resident representative, Dr. Ronald Meinardus, for sending me a free copy.
Actually I'm not really fond of reading history as I am more inclined in solving numerical challenges. Nevertheless, I took the time to read the book so as to get inputs about the Party I'm working for. It's a remarkable book for me because it's actually the first time my name is mentioned in a book particularly in the acknowledgment.
The first article, "The Liberal Party: Its Past and New Politics" written by Sen. Jovito Salonga is breathtaking. I've never enjoyed reading history like I've enjoyed reading his article. I've only known Presidents Roxas, Quirino and Magsaysay by the periods they served and their taglines but Salonga defined each character like they're actually real humans and politicos with certain political strategies.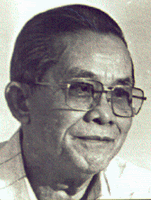 I also felt his emotions when he mentioned the
Plaza Miranda bombing
where he said: "I almost lost my life." And I felt his frustration when he said that the case hasn't been solved until now, while Marcos promised that it will be solved in a few days.
I realized how Sen. Salonga helped in shaping the ideological basis of the
Liberal Party
by crafting the LP Program of Government; which by the way, the act is a directive of Pres. Roxas. Through this, he actually gave the Party a unified definition of liberalism; though some concepts are still being criticized by Liberals themselves.
Finally, I just have to mention that on page 8, the fifteen promises of Marcos must have been mistyped. The items 12 and 13 were omitted; which, ironically, brings the 15 promises to a total of 13. Lucky number, huh?
While reading the next article by
Manolo Quezon
, I realized it was already 2 o'clock in the morning so I'll probably resume it next time.
I can't get enough of Salonga.
Eric
recommended me to buy his books which i'll most probably do. Salonga is the living treasure of the Liberal Party. He once said that "
Kalipi
is the saving grace of the Liberal Party." Being a Kalipi member myself, I hope I could be worth his reference.
Donnabee :: 9:43 AM :: 1 Comments:


---------------oOo---------------