Friday, January 07, 2011
HOME
Here I am. In the time and place I dreamt of ever since I was a child. I am now working in a treasury unit earning an above average income in a government corporation. I also teach part-time in a state university which gives me extra income. I have investments in stocks and I know how to trade it. I have everything I need at home. I have accomplished almost everything on my wish list.
And here I am: wanting the simplest thing in life – to be a full-time mother to my charming daughter.
How ironic. Studying for almost two decades and continuously getting professional education for more than 5 years and I end up wishing that I dedicate my life in taking care of my child and of course, loving my husband. Despite all these education that I had, I doubt I can even pass as a good cook, an efficient house cleaner and a spotless clothes washer. Had I known that this would be my dream someday, I could have learned the proper skills from somebody who's good at it.
It reminds me of a cartoon I saw way back about a country mouse who wanted to go to the city and upon seeing all the hustles and bustles of city life, wished to go back to his country home.
I've heard and read about home-schooling and it somehow sparked my interest. I know that it would be a tough one but I know that with the magic of passion, things will work out well.
The best-selling self-help book "The Secret" taught me that "when you visualize, you materialize." I know it is only a matter of time and resources that will permit me to realize my dream. It is a simple one but only time will tell if it will happen or not. One thing I'm sure though, I love my family more than anything in the world.
Donnabee :: 1:00 PM :: 0 Comments:


---------------oOo---------------
Thursday, September 30, 2010
UPDATES

Well, anong bago? Itong post ko. Wahehe. It's been another year before I put another post here.

So much has happened.

1. Jaynna's growth can no longer be stopped, as expected.
2. I'm now a part-time University instructor in PUP (eh saan pa nga ba?).
3. Finally, I have entered the stock market. Riding the bulls, eh.

So far, I find teaching in PUP a challenge. I've got 4 different subjects and 5 classes to attend per week. With my full-time job, it's truly hard to fit everything together in harmony. As far as I can tell, I'm not actually giving all my best in all of them. The worst subject I've held so far is Research. It's time consuming and I'm not confident handling it. Finance subjects are very easy to handle because it's what I studied and I have plenty of experience on the matter. Teaching is really a vocation. It's not financially rewarding but it's a very fulfilling endeavor.

For my stocks, I initially bought SMPH, JFC and ICT for my long-term portfolio. For my short-term portfolio, I bought PNB but considering the price today, I'm changing my strategy to long-term na lang (in short, I chickened out. wahehe).

I won't promise that I will update this often because when I do, I break it.

Donnabee :: 5:16 PM :: 0 Comments:


---------------oOo---------------
Thursday, August 13, 2009
COMPLACENT

I've always been passionate but I think with the years gone by, I think it has dissipated without my awareness.

Whenever I face a job interview, employers often find it quite fascinating that my ambition is to become the BSP governor. Ever since I graduated, it has stuck out at the bottom of my resume and I tell you, it never fails to intrigue them. But now that I've reached the age of 26, I think my dream has become far too distant to reach.

Yes, I'm guilty. Contentment has been my excuse to being complacent. I often say that I've reached my dream of working as an investment officer and of supporting my parents as well as having a wonderful family but I think I have downgraded myself to a very content person. I used to dream big but now I've satisfied myself in pure and simple joys. Most of the time, I ask myself, did I get tired of achieving and have gone to the end of my strife for excellence? Is God now regretting that he gave me vast amount of talents that I do not use anymore? I hope not.

I remember watching the movie about Chris Gardner who is a self-made stockbroker in the US. The movie is entitled "The Pursuit of Happyness." This guy really went through the eye of the needle to get to where he is now. It's like 99% of the movie is dedicated to his struggles to become a full-time stockbroker and only 1% of it showed his victory. Without his struggles, I don't think he would have achieved anything at all.

It's human nature, I guess. People have to undergo some kind of hardship in tandem with a couple of trials to be challenged in order to strive for the better. Which explains Luke 14:11: "for everyone who exalts himself will be humbled, and he who humbles himself will be exalted."

With all the trials I've had when I was still paving my way through college wherein I fought poverty and the lack of self-esteem, I guess I am already at the victorious stage at this point in my life. But does it end there? Do I have to raise the bar to keep me running and reaching for the stars? Or do I sit here and be content with what I have now. Shall I wait for another set of trials in order for me to move? What sort of motivation should I take when I believe I have already reached my simple dreams? Is it too worldly to ask for more?

The answers to these questions, I have yet to discover.

Donnabee :: 3:32 PM :: 0 Comments:


---------------oOo---------------
Wednesday, July 16, 2008
HAPPY THOUGHTS

Hello my dear friends! I missed you all, especially the kalipips and my college barkadas. Seems like I've been from a space voyage and finally, I've landed back here on Earth.

Now that I'm back, I wanted to share just a few thoughts which made me blissful for the past months.

1. Last 01 July 2008, I took the licensure examination for money market and foreign exchange traders conducted by the consortium of Ateneo Graduate School of Business and Bankers Association of the Philippines. The truth is, I really had a stressful time during the pre-examination seminar since I had to digest all the basic concepts which were not so basic at all. Since my career was at stake, I really studied like I never studied before. Good enough, I passed all modules on money market, foreign exchange and code of ethics. This confers me the title of Certified Treasury Professional.

2. Just this month, I saw my babe stand up for less than 5 seconds. But for me, it was like eternity. I was so happy. This was the second time because the first time she stood, she was with Jay. Still, it was a bliss.

3. Lastly, I got back to the university to finally finish my MBA. I'm now focused on my thesis. Well, I just thought it's about time for me to earn my master's degree.

These happy thoughts made me realize that happiness has always been right there peeking in our eyes. It's just how we see them. Happiness can come from the simple smile that your baby gives you to the achievements that we earn from our career.

I hope you guys have happy thoughts to share, too! Write me at dbabadilla@sbgfc.org.ph. I'll be glad to hear from you.

Donnabee :: 12:21 PM :: 1 Comments:


---------------oOo---------------
Thursday, February 07, 2008
BONNAKID
I was so happy last night to find out that my babe's already crawling. At the age of 2 months, it really came as a surprise. Early this morning, she has perfected her thumb-sucking habit. Who knows what she'll do next.


Honey, why are you sad?

I'm hungry.

Yippee! There goes my milk.

Donnabee :: 12:28 PM :: 2 Comments:


---------------oOo---------------
Thursday, January 31, 2008
JOB VACANCIES

Pips, here's one government institution where you don't need a backer to get hired: SBGFC, a DTI-attached agency which advocates mSME development. It's actually where I work.

Click here for the list of vacancies. Yes, the positions are really vacant and aren't published just to comply with the law.

Just brace yourself with a technical exam, 2 to 3 one-on-one interviews, 1 panel interview and a psychological exam. Thereafter, a medical exam.

Good luck!

Donnabee :: 12:09 PM :: 0 Comments:


---------------oOo---------------
Thursday, December 27, 2007
JAYNNA ARABELLA
Being a mother is the most wonderful thing that happened in my life so far. There are times when I would just stare at my sleeping baby and sigh with happiness. The gift of life is the happiest yet priceless gift that God has given to Jay and me.
Yes, my friends. I already gave birth to Jaynna Arabella on the 13th of November this year. At 5.7 lbs, she never made me suffer that long during my labor period. Her looks were that of her father. (haha!) It's as if Jay is looking in a mirror. Of course, he's so much happy about it.
She was baptized in Catholic faith on the 15th of December. Thanks a lot for those who came... Both Jay and I really appreciate it.
P.S. Kuya Eric, after my maternity leave, I read in your blog that you wanted to be a ninong but it was too late. The christening has already passed. Don't cha worry... Jay and I are reserving our Kalipi dabarkads to our 2nd baby. Hahaha. Naisip namin, baka maubos naman yung friends namin para sa godparents ng 2nd baby namin. Hehe. Oy, mga after 5 years pa yon. And yes, here's the latest Kalipi baby. Sige, kami na ni Jay ang bahala mag-BOS sa kanya. Yada!
Donnabee :: 12:11 PM :: 1 Comments:


---------------oOo---------------
Friday, October 19, 2007
LUCKY

So much have changed in just a couple of months. Since March 2007, my life have become a roller coaster of joy, love and fulfillment.

Six o'clock this morning and still fresh from bed, I woke my husband up with a birthday song and a surprise gift. He carefully opened up the present, not even tearing the gift wrap. I was so happy with the way he smiled. It's like giving a present to a young boy in a Christmas morning.

In less than a month, I will be a mother to a baby girl. I used to think that bearing a child would be so cute. But I swear, it's really a big sacrifice. With all those vomiting and heart burns... But of course, I'm equally excited as well as tensed when my due date comes. Oh, what a joy (and pain) that would be.

My baby must be my lucky charm because right now, I have the best job in the world. A job that's exciting and very fulfilling. I'm an investment analyst in a government corporation that has a social mandate of financing and serving SMEs. I never imagined that I could be in such control over a huge amount of money and be able to contribute to the revenues of the Corporation. Although my job poses so much tension during every transaction, it gives me so much fulfillment whenever I perform well. That's when I say "para sa bayan."

A good husband, an upcoming baby girl, the best job - what more can I ask for?

I do not know what lies ahead of me but I'm pretty sure that what I am now is what I have been dreaming of becoming when I was a kid.

Donnabee :: 12:56 PM :: 6 Comments:


---------------oOo---------------
Wednesday, May 09, 2007
THE MERMAID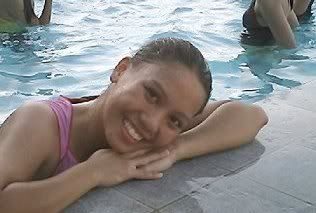 Mermaid by the pool
Last week, our company had an outing in
Anilao Outrigger Resort
, Batangas City. It's a perfect place for divers. I've had a good time riding the kayak and pedal boat. Some went for the banana boat which is so much fun. Others went on island hopping.
During our first night, we played Bingo while others made a beeline in the videoke. To top it all, the food was great! Sobrang sarap.
Kaya eto, super itim ko ngayon. Hehe. I don't mind. After all, I had so much fun.
Labels: anilao outrigger resort, outing, sbgfc
Donnabee :: 4:57 PM :: 1 Comments:


---------------oOo---------------
Wednesday, April 18, 2007
LIBERAL BY HEART AND SOUL
This day must be different.
First, I found out that I left my zipper open.
Second, I found out that the Liberal Party is falling apart. I was shocked when I read in Business World today that the Supreme Court has decided yesterday, 9-5 in favor of Sen. Drilon's presidency over the Liberal Party. First thing I did was to call my good friend kuya Jan to confirm the news. This is such a bad thing for the LP because it will definitely fall apart. Why? With Drilon heading, I'm sure all the LP leaders will now take oath under Lakas. Well, that's good news for Drilon because he can recruit his "coup plotter" friends in the Liberal. I bet their membership slogan will now say: "calling all opposition and genuine anti-government leaders, come join the Drilon-led Liberal Party."
Though all of this happened in the Liberal Party, I will still remain a liberal. I know I need not be a member of this Party to exercise liberalism. Liberalism is not in the name, it is in the heart and soul. Drilon may claim the Liberal Party for all I care but he cannot take away the liberal values that I have -- one that I doubt he ever had.
Labels: liberal party
Donnabee :: 8:03 AM :: 0 Comments:


---------------oOo---------------